About Hackensack Meridian
Health
Hackensack Meridian Health nurses care for patients and their families at every stage of life, 24 hours a day, at bedsides in 9 community hospitals, 4 academic medical centers, a behavioral health hospital, 2 children's hospitals, 2 rehabilitation hospitals, medical offices, and care facilities across the state.
Our team members are the heart of what makes us better. At Hackensack Meridian Health we help our patients live better, healthier lives — and we help one another to succeed. With a culture rooted in connection and collaboration, our employees are team members. Here, competitive benefits are just the beginning. It's also about how we support one another and how we show up for our community. Together, we keep getting better - advancing our mission to transform healthcare and serve as a leader of positive change.
Hackensack Meridian Health is one of the most recognized health care networks in the country for nursing excellence with 7 Magnet designations. In joining our nursing team, you'll work with collaborative colleagues, who are pushing each other - and patient care - to keep getting better.
Success Profile
What makes a successful Registered Nurse - Post Partum - Per Diem Evenings at Hackensack Meridian Health? Check out the top traits we're looking for and see if you have the right mix.
Collaborative
Courageous
Compassionate
Creative
Connected
Job Description
Requisition #

2023-136038

Shift

Evening

Status

Per Diem
Overview
The Registered Nurse functions as a caregiver for a specific patient population in order to achieve desired outcomes. This position focuses on expanding knowledge and skills, provides effective direct care as part of the interdisciplinary team to a variety of complex patients. This position directs and oversees the care provided by other caregivers through delegation, validation, evaluation, and coordination. This position effectively coordinates patient care/unit activities among nursing peers, physicians and support services.
Responsibilities
A Registered Nurse at Hackensack Meridian Health involves the delivery of nursing practices according to the most up-to-date evidence-based research, nursing policies, and standards of care, to provide and ensure safe and excellent delivery of individualized patient care. A day in the life of a Registered Nurse includes: Assessment, Planning, Implementation and Evaluation
Assessment
1. Collects comprehensive data pertinent to the patient's health or the situation.
2. Performs age and disease specific assessment / data collection independently in a systematic manner focusing on physiologic, psychological and cognitive status.
3. Recognizes clinical and diagnostic status changes in patient status.
4. Identifies variables in patient/family education needs based on age, disease, and culturally specific learning differences.
Plan
1. Develops a plan of care that prescribes strategies and interventions to attain expected outcomes.
2. Formulates age and disease specific patient / family centered goals / outcomes based on assessment data.
3. Develops and coordinates a plan of care which is patient / family focused, prioritized and encompasses the continuum of care.
Implementation
1. Communicates, coordinates, and implements the plan of care.
2. Provides ongoing communication with patient / family, nursing colleagues and other members of the health care team regarding patient's status, rendered care and treatment plans.
3. Implements age and disease specific care in an organized and timely manner.
4. Provides or coordinates the patient / family education as needed and ensures understanding.
5. Performs according to established protocols in clinical situations, including communicating with appropriate persons and documenting events.
6. Provides nursing care and treatments that reflect the patients' needs, advocates appropriately and demonstrates evidence-based nursing practice and compliance with standards.
7. Performs continuous Point-of-Care electronic documentation of each individual patient's assessments, plan-of-care, interventions and evaluation of rendered care.
8. Medication administration utilizing the newest advancements in bar-scanning and documentation technologies designed to ensure the safest delivery of medications to our patients.
9. Multi-disciplinary discharging of patients to ensure safe transitioning and continuum of care.
Evaluation
1. Evaluates progress toward attainment of outcomes.
2. Utilizes critical thinking skills based on nursing knowledge to achieve desired patient outcomes.
3. Initiates interventions related to patient's change in condition and unexpected response to care.
Additional Responsibilities:
1. Identifies ethical issues in the practice setting and brings them to the attention of other team members.
2. Recognizes and responds to opportunities to enhance patient satisfaction.
3. Must acquire and maintain competencies, certifications and continuing education in order to meet any facility accreditation or individual licensing requirements.
4. Adheres to American Nurses Association Code for Nurses with Interpretive Statements.
5. Lifts a minimum of 35 lbs., pushes and pulls a minimum of 10 lbs. and stands a minimum of 6 hours a day.
6. Adheres to HMH's Organizational and Managerial competencies and standards of behavior.
7. Other duties and/or projects as assigned.
Qualifications
Education, Knowledge, Skills and Abilities Required:
1. BSN in progress and/or willing to acquire within three (3) years of hire.
2. Must have six (6) or more months of relevant nursing experience OR must be an active participant with Hackensack Meridian Health's Nurse Residency Program.
3. The ability to learn quickly and adapt to changing patient needs, a strong sense of accountability for improving the lives of our patients and their caregivers, an exceptional focus on teamwork, dedication to ongoing education and the ability and passion to deliver the highest quality of care based on a strong sense of patient focus are all required.
Education, Knowledge, Skills and Abilities Preferred:
1. National Certification in area of specialty preferred when eligible.
Licenses and Certifications Required:
1. NJ State Professional Registered Nurse License.
2. AHA Basic Health Care Life Support HCP Certification.
Our Network
Hackensack Meridian Health (HMH) is a Mandatory Influenza Vaccination Facility
As a courtesy to assist you in your job search, we would like to send your resume to other areas of our Hackensack Meridian Health network who may have current openings that fit your skills and experience.
Benefits
workplace excellence

collaborative work environment

work-life balance

compassionate nursing culture

mentoring programs

substantial tuition reimbursement
Eric
Gossar Assistant Nurse Manager, Critical Care Unit
Southern Ocean Medical Center

To be a newer nurse and become an assistant manager of a critical care unit speaks to the opportunities Hackensack Meridian Health can provide. Also, the teamwork and team members I have been exposed to here are second to none."
Start Exploring
See the area you'll be working in and get an idea of what your daily routine around the office can be like.
Learn More
NURSING ANNUAL REPORT
Check out our latest Nursing Annual Report to learn more about the achievements of our nursing team.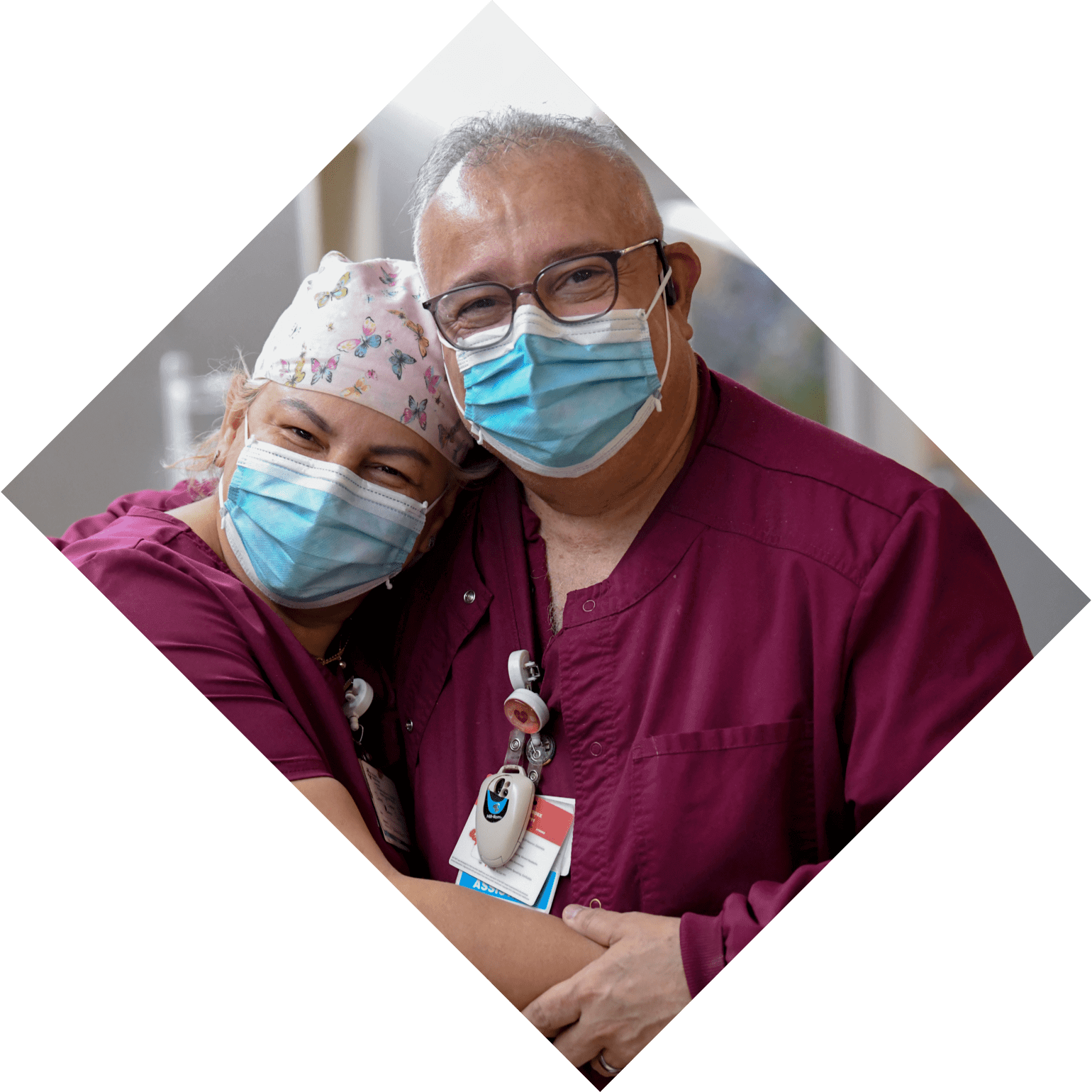 STAY CONNECTED
From roles that are right for you to new opportunities, join our talent community and stay up to date with job openings and more.